AquaPurr: The only fountain you never clean!
Faucet-fresh water, triggered by your cat. No cleaning, ever.

All the other fountains recirculate water.

That means they all need cleaning, every couple of days!
Always fresh water. The AquaPurr connects to your faucet and provides faucet-fresh water for your cat anytime they want it.

Cat triggered. Water flows from the AquaPurr spigot when your cat triggers the sensor.

Never needs cleaning. The AquaPurr always flows fresh water straight from the faucet - no recirculating water means no slime, no cleaning.

Installation. The AquaPurr sits next to your sink and connects to your faucet with a diverter valve that allows you to switch between cat mode and human mode.
Battery Powered or Corded. Your choice! The AquaPurr 4 runs for months on 4 AA batteries.
Flow Control. You asked, we listened. The AquaPurr 4 has flow control. You set the amount of water that comes out of the spigot, from a dribble to a stream.
Aerator Threads - I've got you covered
Email, call or text:
Steven@AquaPurr.com
303-717-8898
What can you do to help?


When you order your AquaPurr, send me a photo of the aerator on your faucet. That's the part where the water comes out. Based on that photo, I will know which set of adapters to send with your order.

Which adapter should you buy with your AquaPurr?

By sending me a photo of your aerator, I will know which set of adapters to send you. If those don't fit then we will work together and determine what you need. Then I will send that adapter free of charge.

How do I remove my aerator?

Remove your aerator by unthreading it from your faucet. Looking down from above the faucet, you will turn the aerator clockwise.
How do you measure an adapter size?
The instructions! The instructions have an entire page on faucet thread adapters including a sizing chart. You may use the sizing chart if we have to work on getting you a different adapter.

What to do if you can't install the diverter valve.

Call me! Text me! I can help. Send me a picture of your aerator and we will go from there.


When you move, I can help!

If you need a different adapter when you move to a new place I can help!
Aerator Thread Videos
Five videos detailing everything you ever wanted to know about aerator threads.
Unlike any other cat water fountain. Goodbye to filters. Goodbye to refilling. Goodbye to pumps. Goodbye to nasty, stale, recirculating water. The revolutionary AquaPurr provides your cat with fresh water straight from the faucet.
Cat triggered. When your cat steps close to the AquaPurr, they activate the AquaPurr's motion sensor that triggers water flow from the AquaPurr spigot.
The AquaPurr 4 connects to your faucet for fresh water every time.

Your cat triggers the flow anytime they want.
You never clean or refill the AquaPurr 4.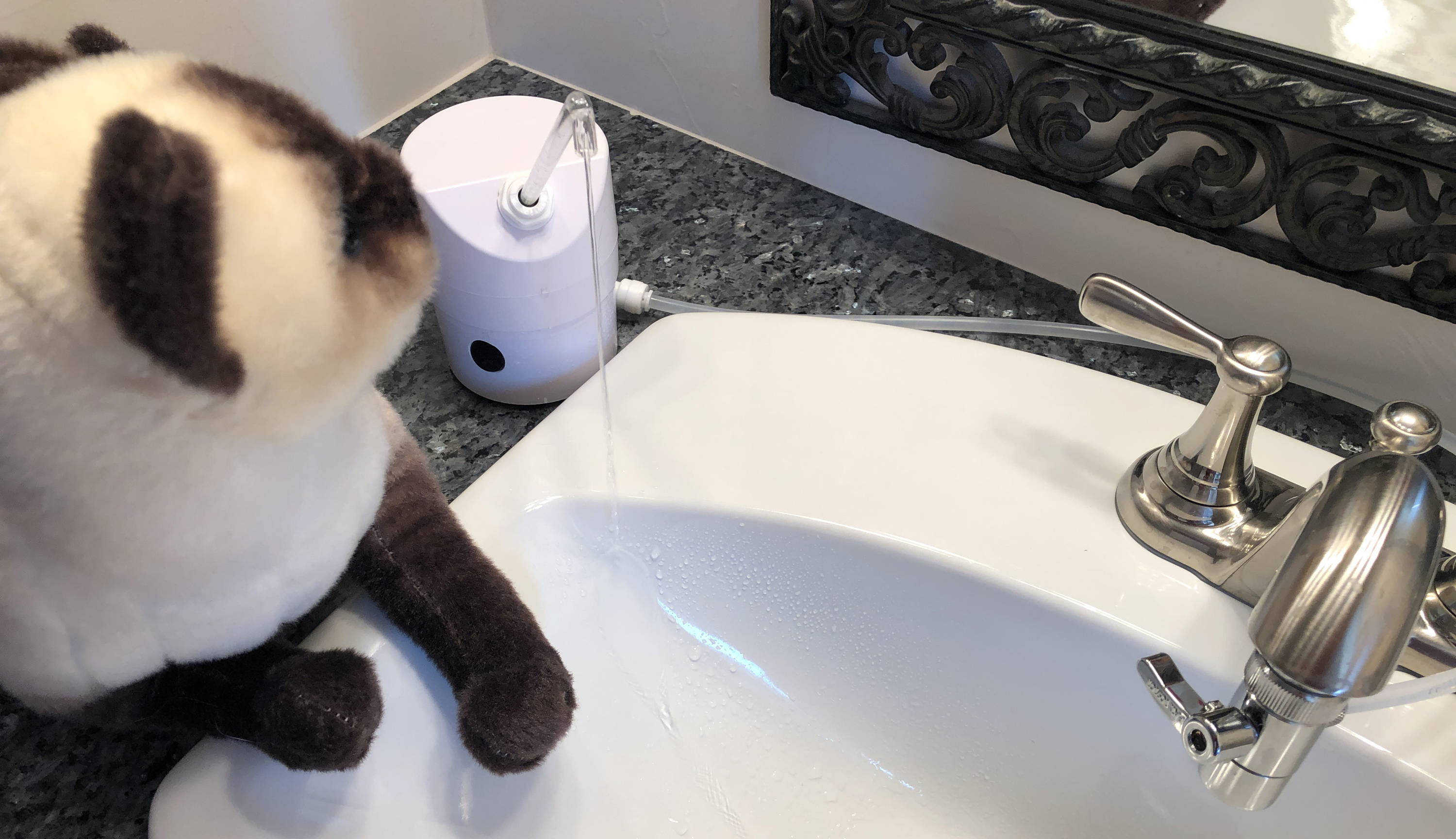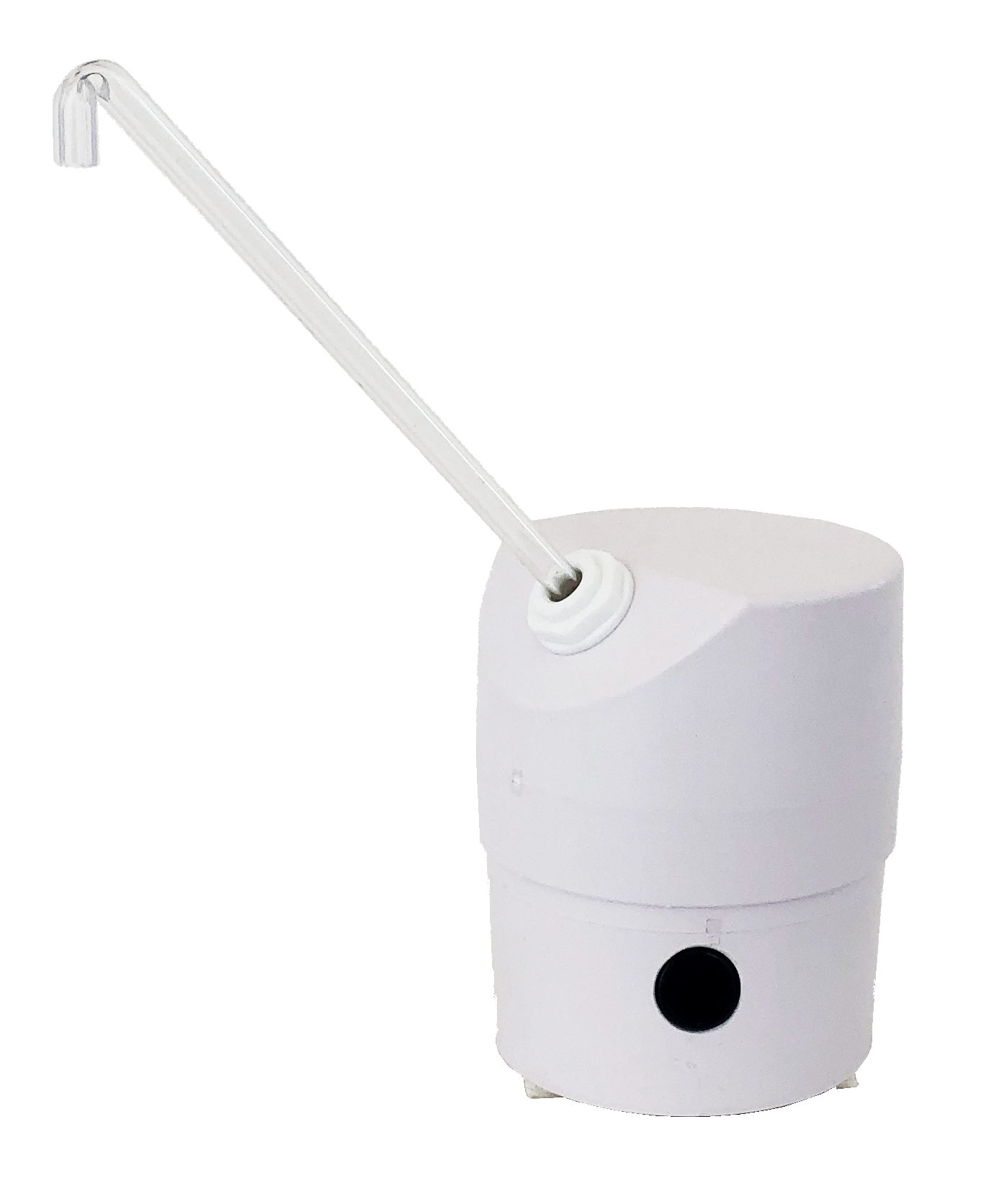 Why the AquaPurr is so much better than recirculating fountains
Because the AquaPurr 4 does not recirculate a reservoir of water, the water never gets dirty.
Because the AquaPurr 4 does not use a pump there is nothing to foul the water.
The AquaPurr 4 never needs to be refilled because the water comes straight from your faucet.
The AquaPurr 4 is silent because it doesn't use a pump to move the water. Instead it uses the water pressure from your faucet.
The AquaPurr 4 is just 3.5" across.
The cat saliva mixes with the water and forms slime in the reservoir of water requiring regular cleaning.
The inside of the pump gets slimy which immediately fouls the refilled water.
Recirculating fountains need to be refilled often, usually daily.
Recirculating fountains use a noisy pump to generate the flow of water. And they get even louder when the unit runs out of water!
Because recirculating fountains need to have a reservoir of water many are very large.