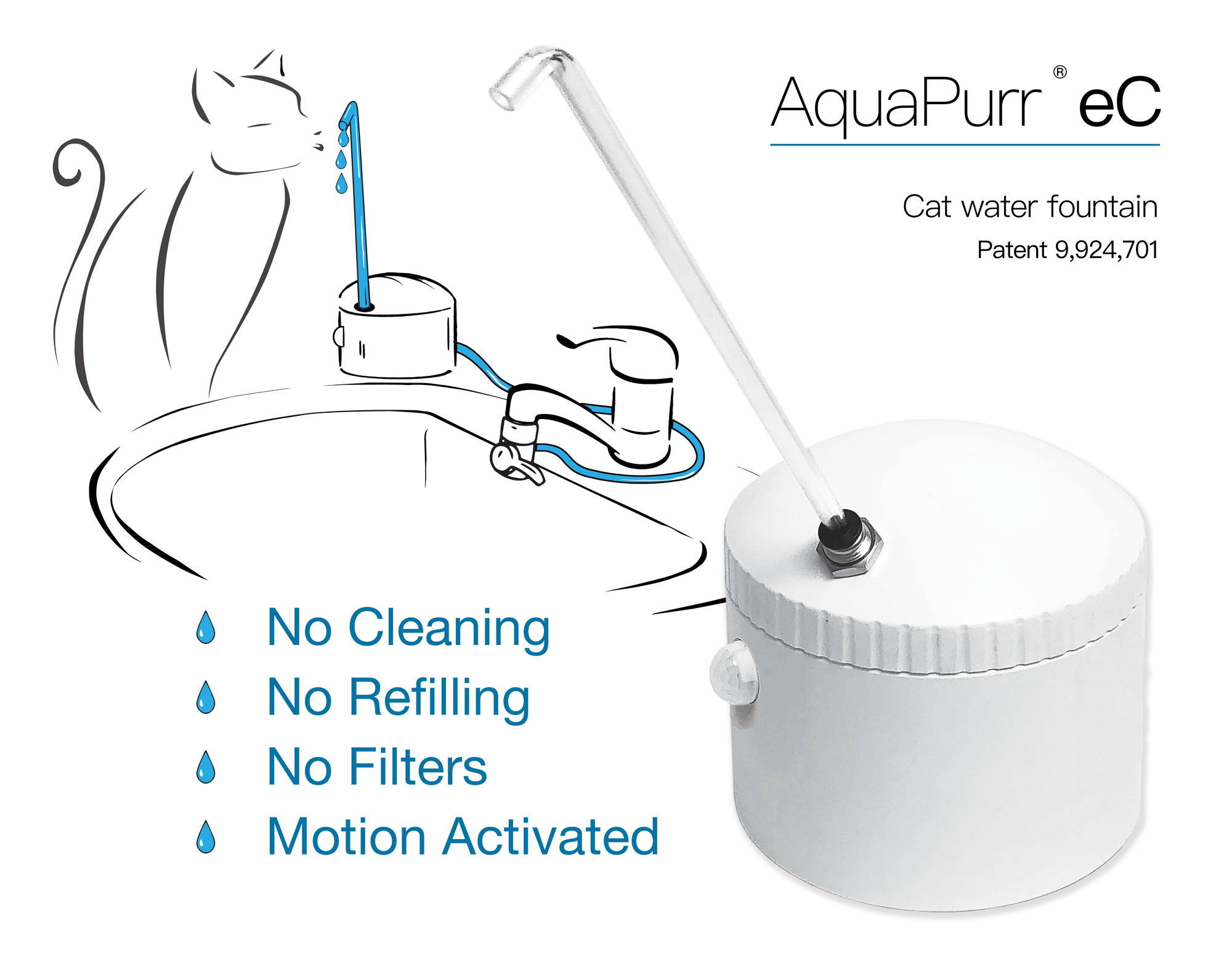 The AquaPurr is a cat drinking fountain that sits next to your sink and connects to your faucet using a diverter valve - your faucet supplies water to the AquaPurr.

When your cat steps close to the AquaPurr, they activate the AquaPurr's motion sensor that triggers water flow from the AquaPurr spigot.
Your cat drinks from the AquaPurr spigot, and the water they don't drink flows down the drain.

When your cat steps away, the AquaPurr automatically shuts off in a few seconds.

Because the AquaPurr connects to your faucet with a diverter valve, you still have full use of your sink when you want it.
The AquaPurr eC connects to your faucet for fresh water every time.

Your cat triggers the flow anytime they want.
You never clean or refill the AquaPurr eC.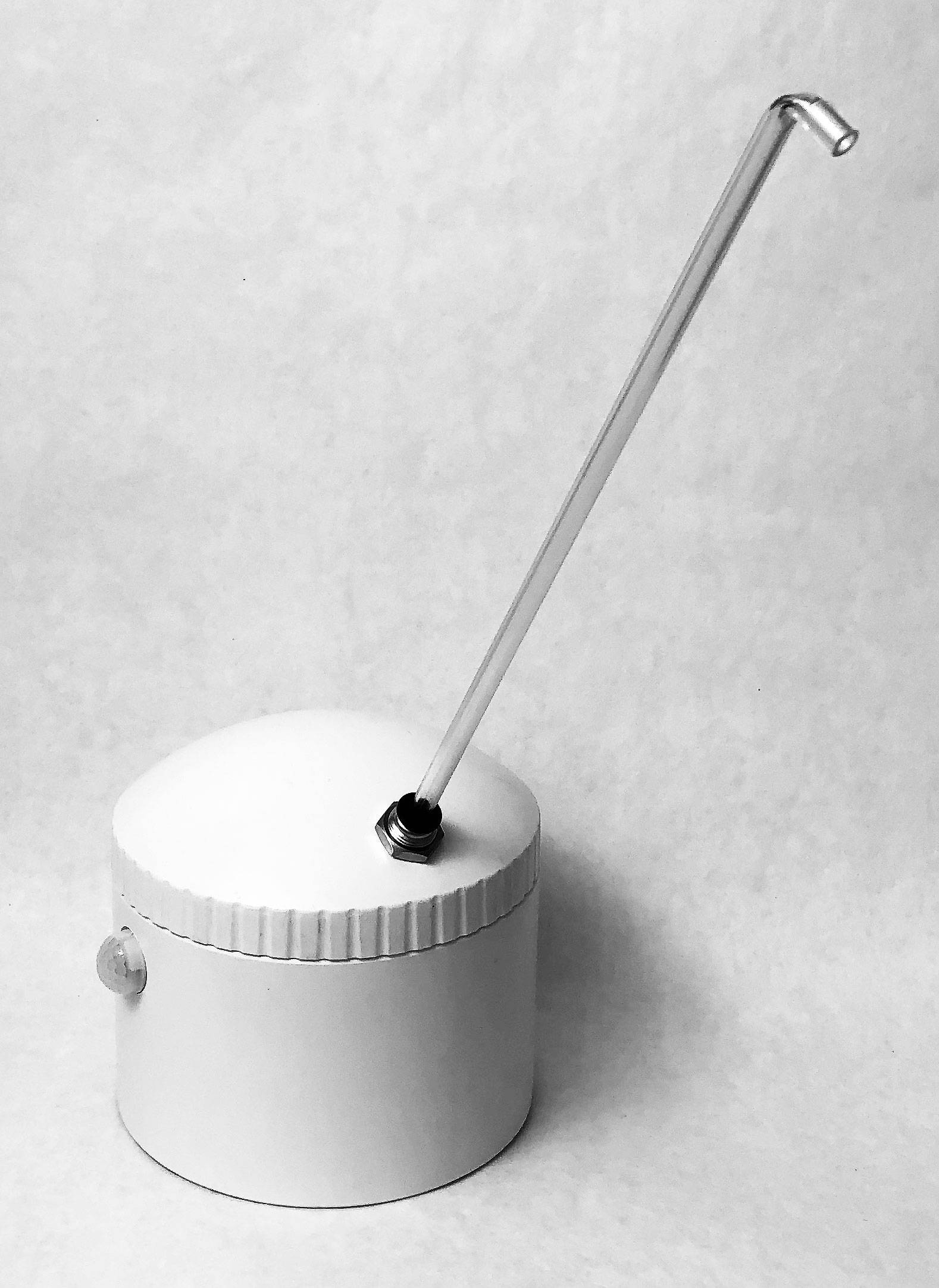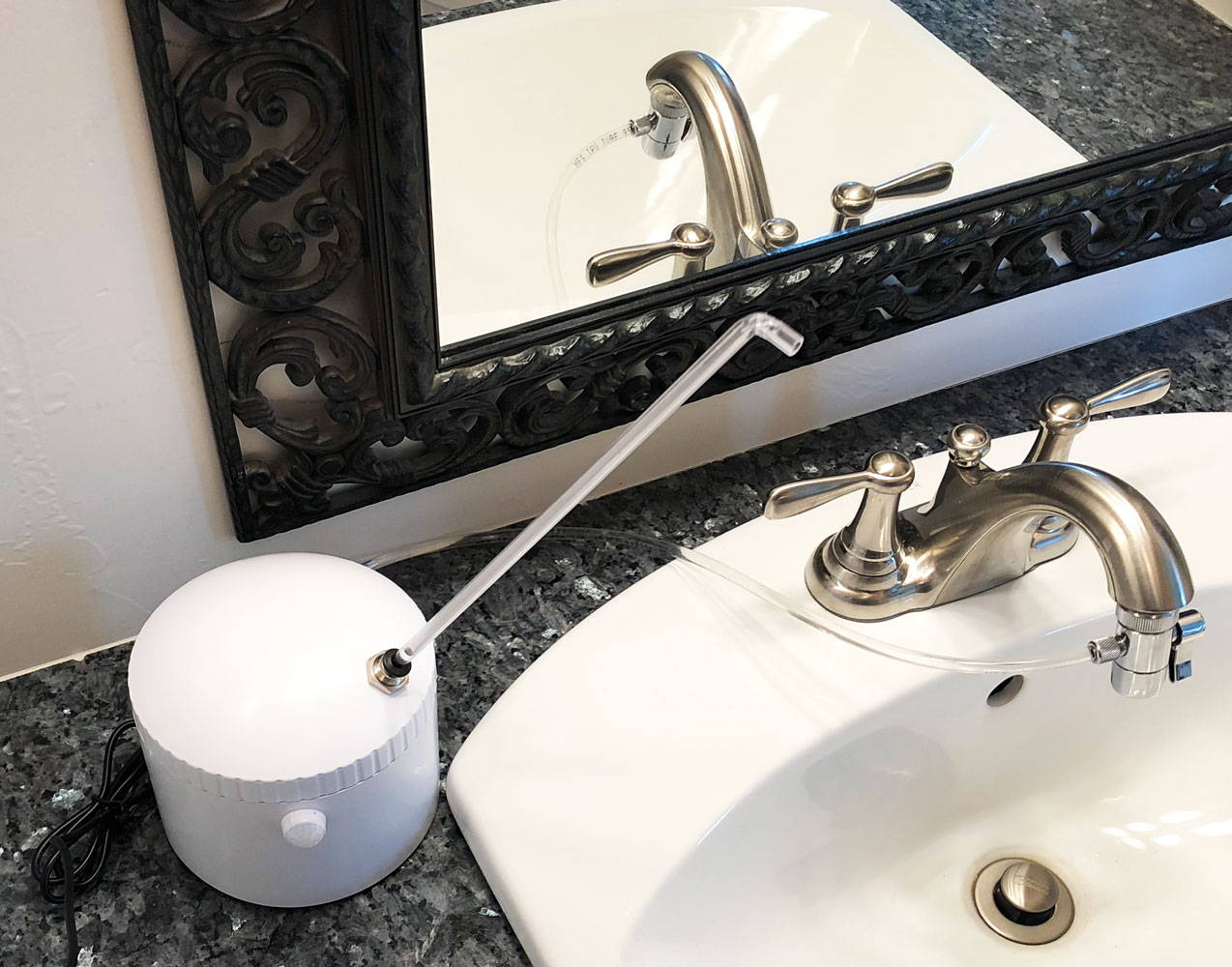 Videos of our cat "Pouhka" using the AquaPurr eC
Customer photos of the AquaPurr eC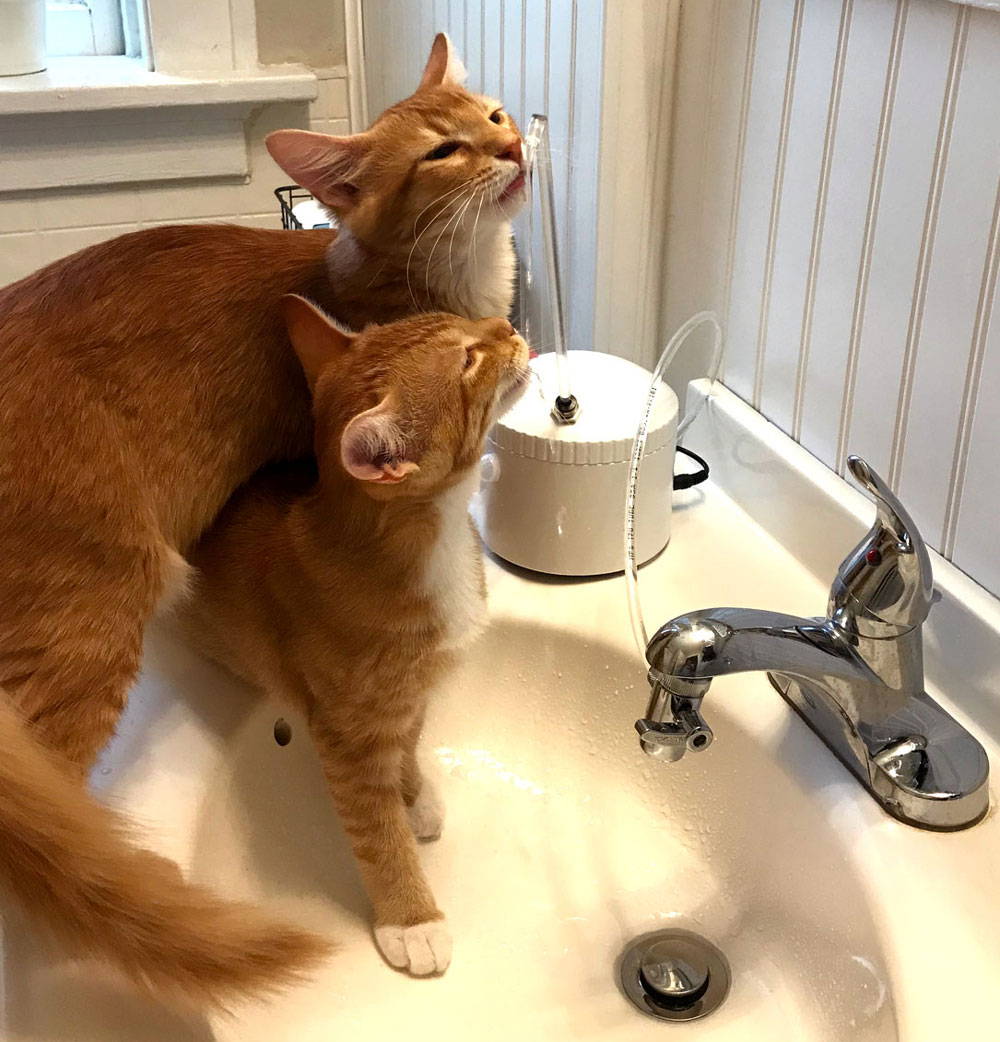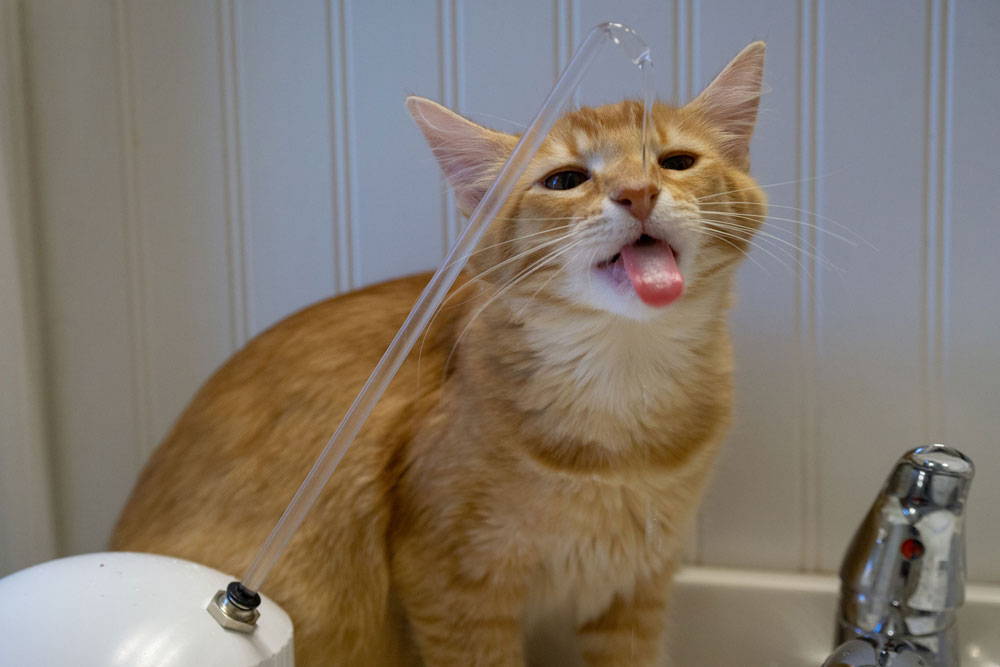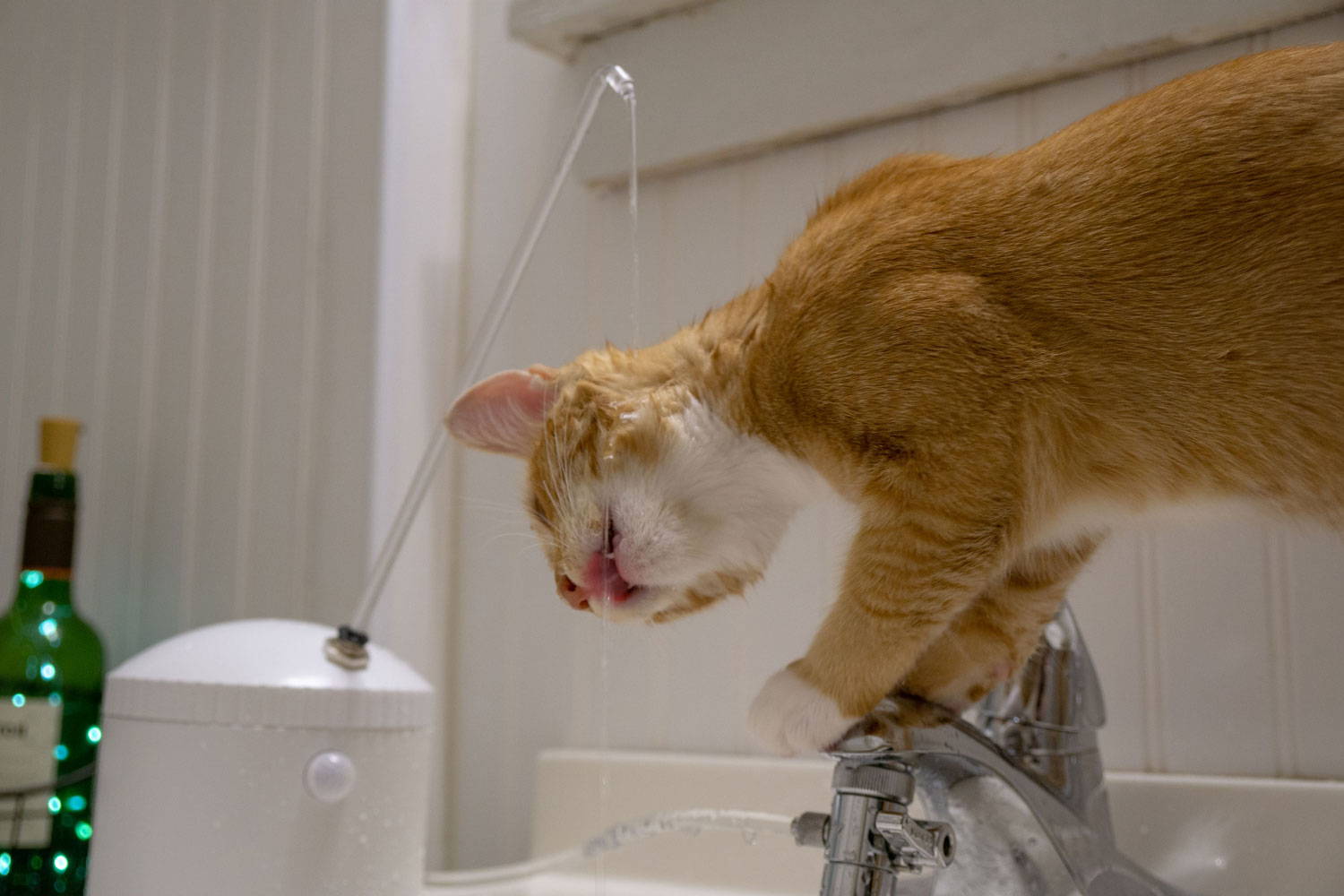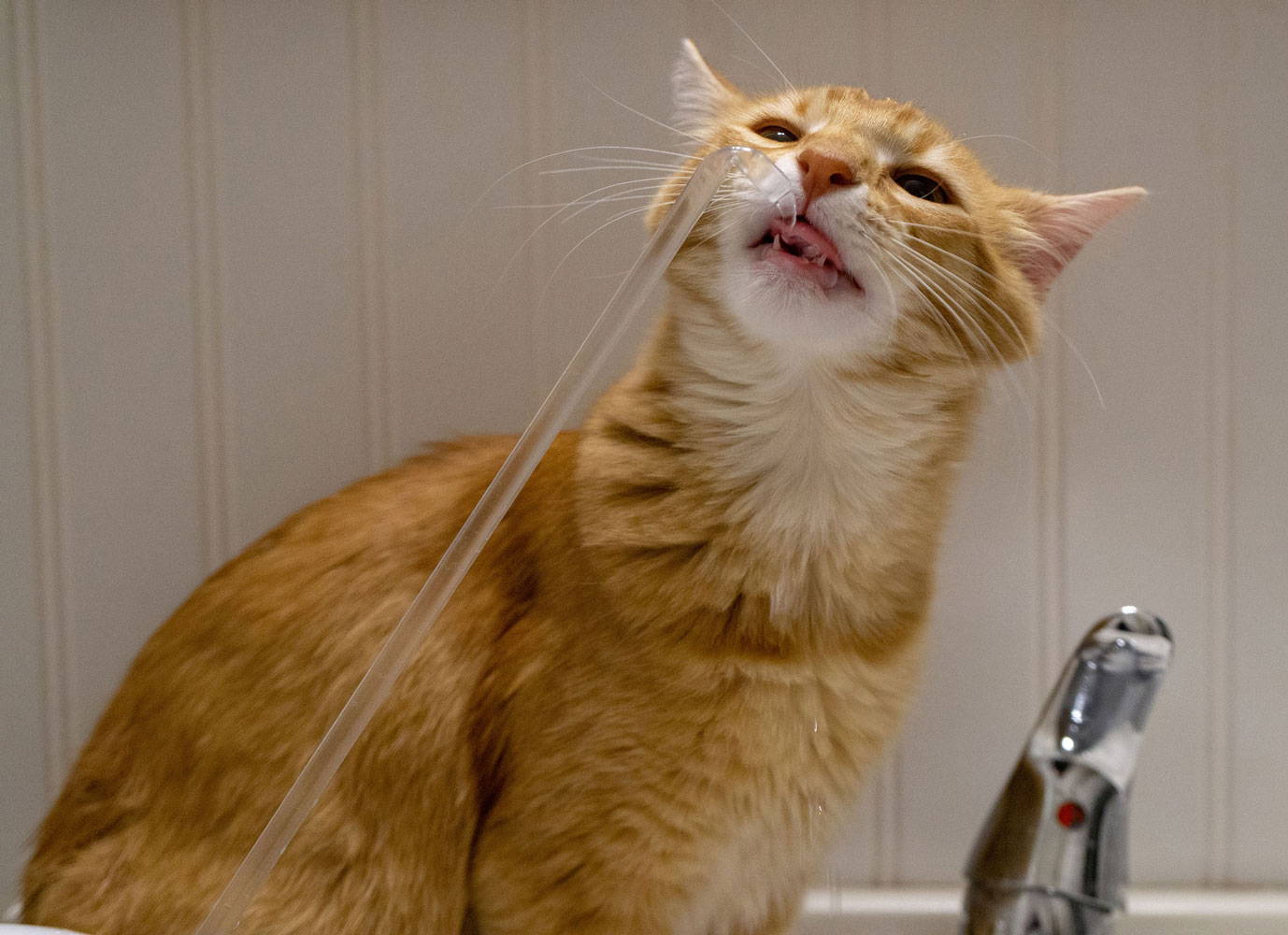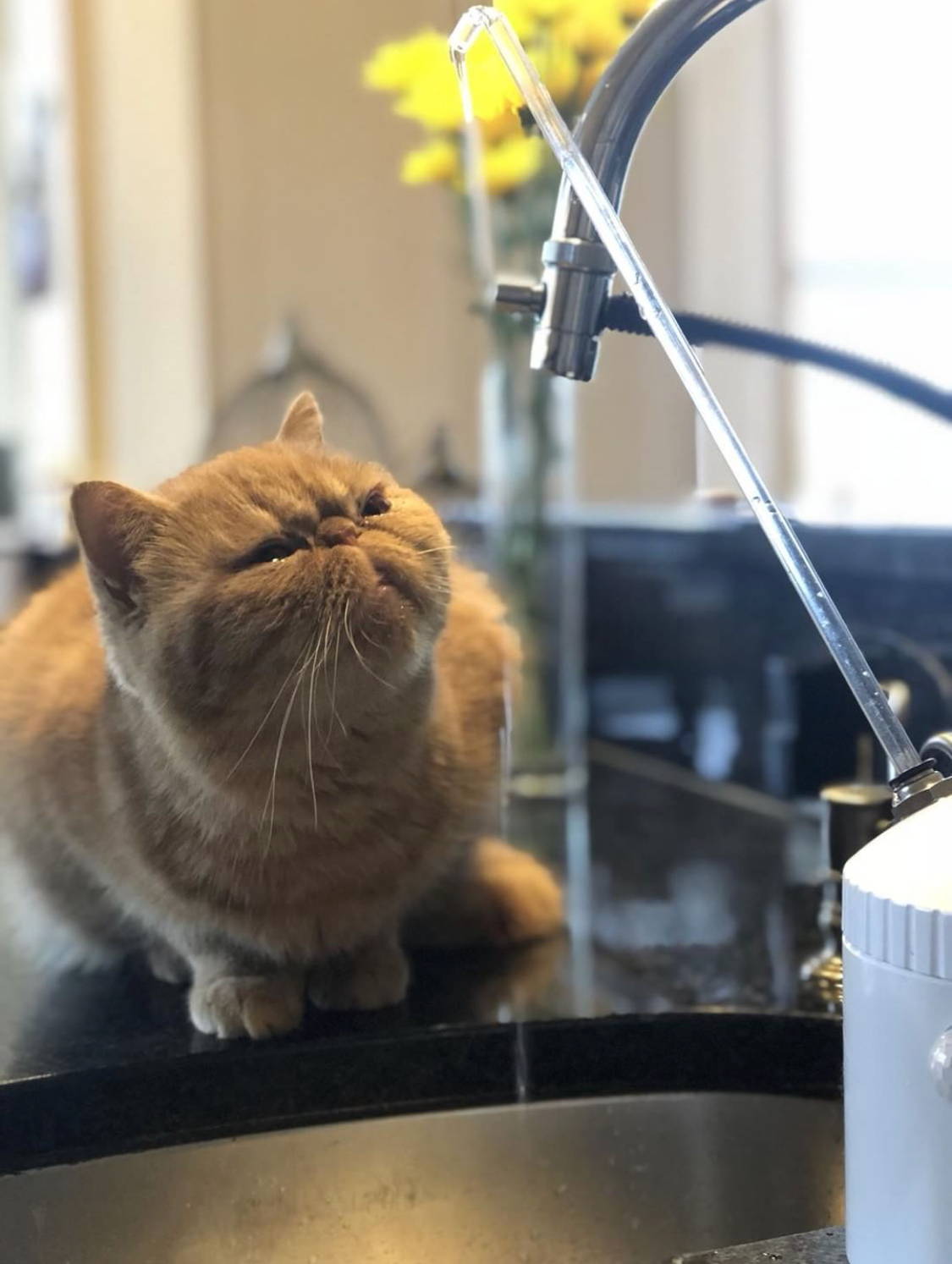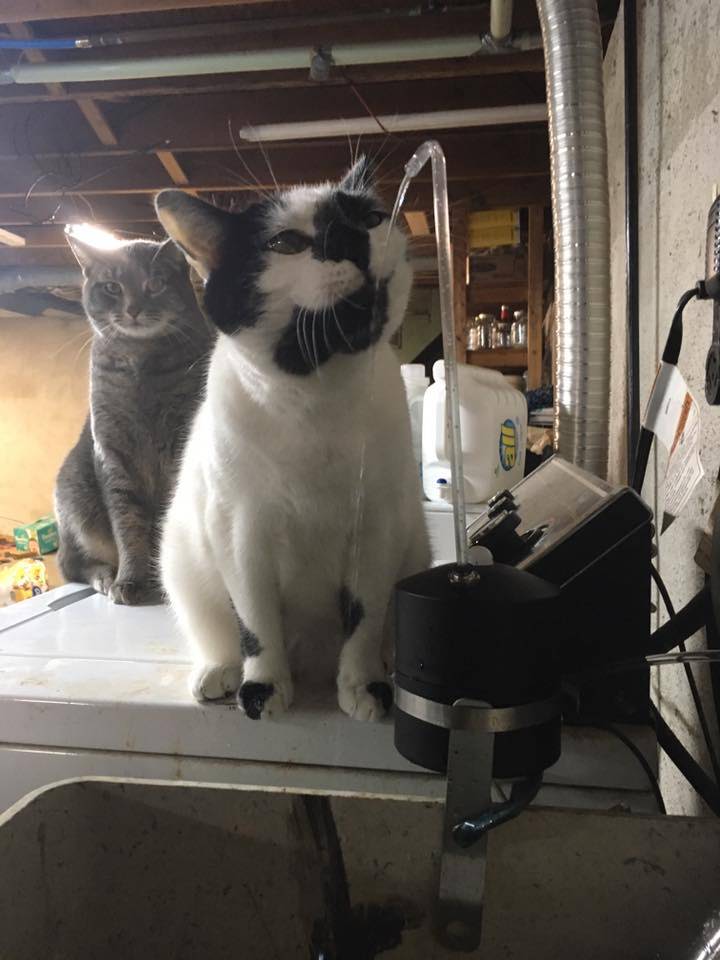 Diverter valve with thread adapters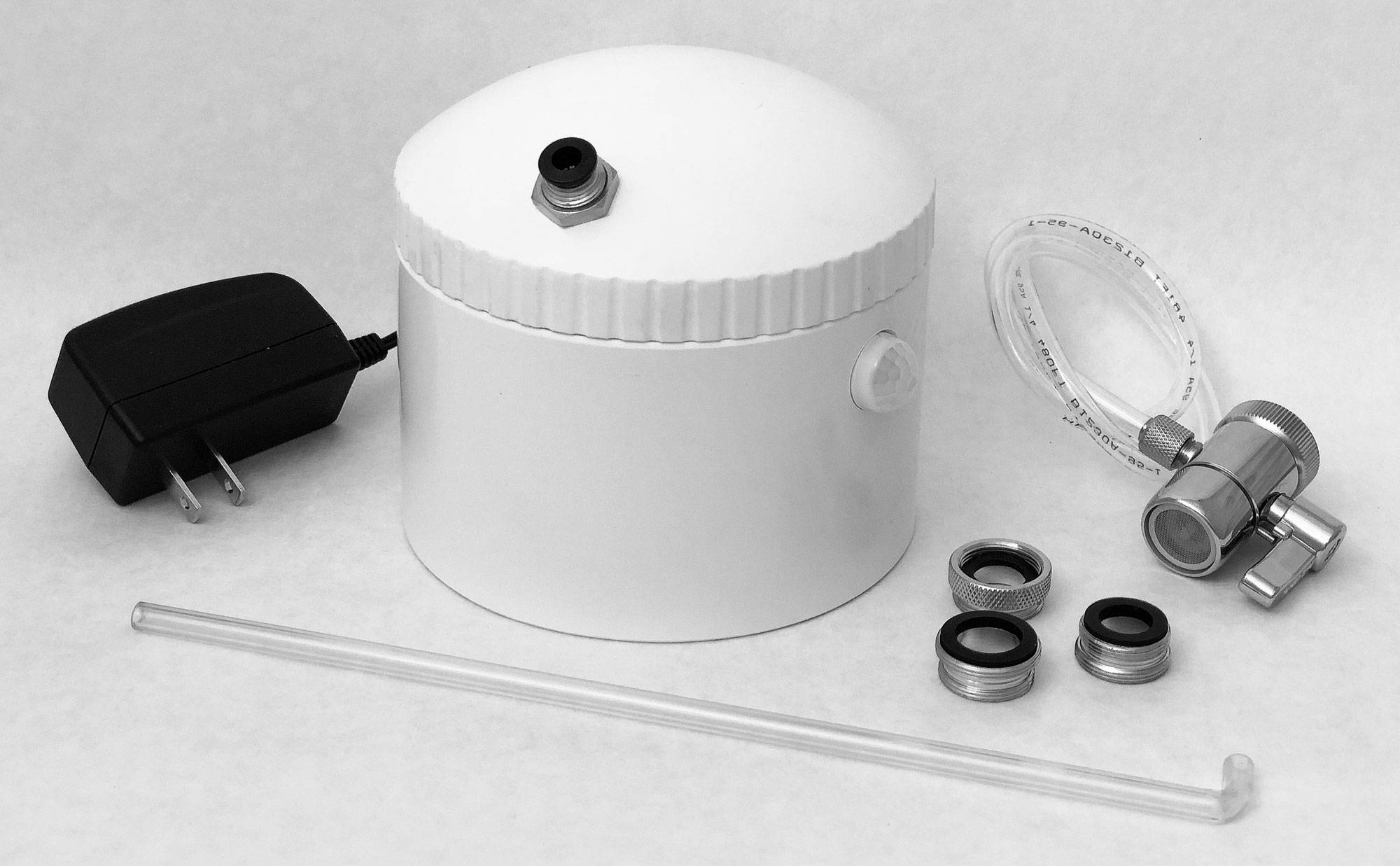 Why the AquaPurr is better than recirculating fountains
Because the AquaPurr eC does not recirculate a reservoir of water, the water never gets dirty.
Because the AquaPurr eC does not use a pump there is nothing to foul the water.
The AquaPurr eC never needs to be refilled because the water comes straight from your faucet.
The AquaPurr eC is silent because it doesn't use a pump to move the water. Instead it uses the water pressure from your faucet.
The AquaPurr eC is just 5" across.
The cat saliva mixes with the water and forms slime in the reservoir of water requiring regular cleaning.
The inside of the pump gets slimy which immediately fouls the refilled water.
Recirculating fountains need to be refilled often, usually daily.
Recirculating fountains use a noisy pump to generate the flow of water. And they get even louder when the unit runs out of water!
Because recirculating fountains need to have a reservoir of water many are very large.
5.0 out of 5 stars. If it had a cup holder, I'd drive it to work.
By Amazon Customer on September 29, 2016
This is a fantastic product, built and sold by a true gentleman entrepreneur. My wife ordered one a few months ago and had it set up and going in about 10 minutes as soon as she figured out which of the many faucet adapters it came with fitted to our admittedly old fixtures. It worked like a charm until a leak started around one of the connectors. I took it apart and found that the threaded insert had broken, probably as the result of a manufacturing defect (it's a tiny connector). I emailed Steven Chalmers at AuqaPurr inquiring about buying some replacement parts since these are not the sort of thing you can run down to Home Depot and pick up. He told me he'd send the new parts free of charge and had them in the mail the next day. I have nothing but praise for that kind of old-fashioned customer service. Oh, and the cat that insists on drinking from a fountain (the other two are fine with bowls, Beatrice!) loves the thing. She pestered the whole house while it was out of commission. On a purely technical note: I've tinkered about with Arduino kits and Raspberry PIs and seen several designs for automatics pet watering devices using both. They pale in comparison to the elegant simplicity of the AquaPurr. It has one moving part, uses no electricity and runs entirely on water pressure in combination with a cat and gravity. It's one of those devices that makes you go "Why didn't I think of that?"

5.0 out of 5 stars. Great for anyone with a cat who refuses to drink ...
By L.H. on July 18, 2016
This product enables me to sleep through the entire night without my cat waking me for water. Great for anyone with a cat who refuses to drink water from anything but a running faucet.

Hi Steven,
I am sorry it took me so long to get back to you with this it is Master's Week here in Augusta and things get very busy for us.
First off I want to say that I credit your AquaPurr device with saving our cats life. That may seem like a bit much but it is a simple fact, our 15 year old cat, Mojo, had stopped eating and wouldn't drink from water bowls or fountains. By the time we got him to the vet he had dropped nearly half his body weight, test showed he was well into kidney failure and dehydrated. He would try to drink out of the faucets but when we weren't there and if someone left it turned off he was out of luck. So when I found your AquaPurr it was just what I had been looking for, now Mojo has his own faucet that no one messes with and he has a steady supply of clean water all his own.
I think the best thing about the AquaPurr is the quick training time and easy installation, it doesn't take long for the cat to learn to use the AquaPurr, it only took Mojo about a day or two to start using it on his own, and installation is a very simple procedure. The only problems I encountered with the Aqua Purr was that the drip tube is clear, for some reason my cat (possibly because he is older) could not see the tube and would often have water all over his head in the beginning. I fixed that by covering the drip end with some electrical tape so he had something to fixate on when going for a drink.
I would definitely recommend the AquaPurr, I think it is a much better solution than the pet water fountains which I find a big hassle to due to their constant need for cleaning and how cumbersome they can be. I have been very happy with the AquaPurr and my only regret is that I didn't find it sooner for Mojo.
Feel Free to use my comments, I have been very happy with the AquaPurr and how it has helped my cat!
Don C.
My Burmese and Siamese cats love their new fountain. After many years of struggling with a cat fountain in which the water had to be changed everyday, the convenience of your product is amazing. Thank you,Cyndy

Hi Steven,
I just wanted you to know that my cats LOVE AquaPurr!!! The one that was showing health issues due to not drinking enough was the FIRST to appreciate your product. Velvet was showing signs of kidney problems and it took a huge veterinarian bill to restore her health. With AquaPurr she drinks a lot more frequently and has not experienced any more kidney issues. She quickly learned that she was in control of that water source and her littermates soon followed her lead. As you said, it was easy for a non-mechanical person like me to install. It operates perfectly. I appreciate that there are no filters to change, no electrical sources to worry about, and not even any water dishes to fill or clean. I expect my kitties will be healthier (they are already happier!) because of a your product.
THANK YOU! Pam